SENATE BILL 1383 (SB 1383) - Short-Lived Climate Pollutants (SLCP)
For more information about the SB 1383 – Short Lived Climate Pollutants,
please contact:
Lisa McCullough
805-658-4320
SB 1383  – Short-Lived Climate Pollutants (SLCP): Organic Waste Methane Emissions Reductions
NEW
Your valuable input will help Ventura County Public Works prepare to implement SB 1383
Residents
If you live in the Unincorporated Ventura County, you are invited to take this short FOR RESIDENT SURVEY about your current trash and recycling service for an opportunity to win a free household sustainability kit.
Businesses
If you own/operate a business in the Unincorporated Ventura County, please take this short FOR BUSINESS SURVEY about your current trash and recycling service.  Please let us know if your business would benefit from donated containers and signage.
What
Organic waste broadly refers to food scraps, yard waste, non-hazardous wood waste, and food-soiled paper.
California Senate Bill 1383 establishes methane emission reduction targets for California, requiring a 50% reduction of organics heading to the landfill by 2020 and 75% reduction by 2025.
CalRecycle (Department of Resources Recycling and Recovery), is California's state recycling department, and has developed the regulation for this organics mandate.
Why
Organic waste in landfills emits:
· 20% of the state's methane, a climate super pollutant 84 times more potent than carbon dioxide.
· Air pollutants like PM 2.5, which contributes to health conditions like asthma.
Organics like food scraps, yard trimmings, paper, and cardboard make up half of what Californians dump in landfills.
Reducing Short-Lived Climate Super Pollutants like organic waste will have the fastest impact on the climate crisis.
When
SB1383 goes into effect on January 1, 2022
Who
California's newest organic legislation will affect every city and county in CA, most residences and businesses (generators), facility operators, schools, food recovery organizations and solid waste & recycling collectors.

County of Ventura Efforts
The County of Ventura is taking steps to ensure we are doing our part to meet this mandate by ensuring we have comprehensive agreements and ordinances in place, by implementing effective organic programs, and by partnering with the public in assisting and educating on best practices.
In 2020 through a Request for Proposal (RFP) process, the County has hired a consulting group to assist with the following tasks in 2021:
1. Analyze and make recommendations for renegotiating all residential and commercial solid waste collection agreements
2. Analyze and make recommendations for renegotiating all compost materials handling facility agreements
3. Establish a County Working Group among affected County agencies to inform development of the County's SB 1383 ordinance development process
4. Update existing Solid Waste Ordinance 4445, with consideration to developing a separate, new organics ordinance
5. Update existing Construction & Demolition Recycling Ordinance 4421
In addition, the County is working on the development of an Edible Food Recovery Program which, most importantly, helps address the food insecurity crisis right here in Ventura County.
We are all stakeholders in this process and there will be opportunities for the public to provide comment. If you wish to be added to the Stakeholder Notification List, click here. As meetings and hearings are scheduled, stakeholders will be notified.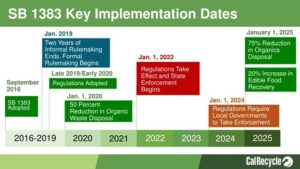 Frequently Asked Questions (FAQs) 
For more information on SB 1383, please visit CalRecycle's website at https://www.calrecycle.ca.gov/Climate/SLCP
RESOURCES:
Food Donations – info@foodshare.com or
Call – (805) 983-7100 or (805) 983-2326