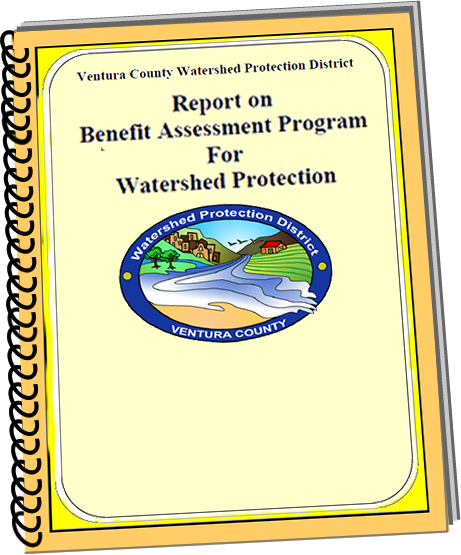 SUMMARY
In 2017, Ventura County became the 13th most populous county in California with more than 854,000 residents. As former farm and open space lands have transformed into cities, it has become increasingly important to control floodwaters. The Ventura County Watershed Protection District (VCWPD) Benefit Assessment (BA) Program is authorized under the Ventura County Watershed Protection District Act, as amended by Chapter 438, Statutes of 1987 and Chapter 365, Statutes of 1988. Benefit Assessment rates were approved by the Ventura County Board of Supervisors and cannot be adjusted for inflation or increased without a vote. The BA Program provides revenues to financing routine operations and maintenance (O&M) of District facilities – and also funds the Countywide Stormwater Quality Management Program (VCSQMP).
Population increases result in additional buildings, roads, driveways, and other impervious surfaces like patios, roof covers, etc. This means rainfall can no longer soak directly into the ground or be used by plants and trees, and the result is increased runoff.  Increased runoff also means greater flood hazards and subsequent increases in maintenance costs that strain already limited revenues. Wildfires burn off existing vegetation and established trees that normally help stabilize slopes, so this means more chance of landslides and faster more intense runoff during each rainstorm until plants can regrow.
When substantial runoff debris volume clogs up culverts and storm or sewer pipes an overflow can quickly damage adjacent properties. Mud or debris flows entering creeks, streams, or runoff channels can clog or cause significant reductions in carrying capacity of those waterways while also further straining money and resources needed to repair, enlarge, or redesign existing flood facilities.
Congress established the National Pollution Discharge Elimination System (NPDES) permit program via a 1987 amendment to the 1972 Federal Clean Water Act, with the ultimate-goal of reducing pollutants in the waters of Ventura County. NPDES activities, implementation, and enforcement has been funded through Benefit Assessment (BA) rates since 1996. Initially meant to control water pollution by regulating the discharge of pollutants to the waters of the United States, NPDES was tasked to specifically regulate industry and wastewater treatment plant discharges, along with stormwater runoff from publicly owned municipal storm drains.
BACKGROUND
Implementation Agreements (dated June 30, 1992) between VCWPD and the Cities and County of Ventura provide for the use of BA funds to finance NPDES related activities through the Ventura Countywide Stormwater Quality Management Program (VCSQMP). Assessments are levied on Ventura County properties based on the proportion of stormwater a parcel of land contributes to the overall stormwater runoff. Since 1988 the Watershed Protection District of Ventura County has depended upon an annual Benefit Assessment Program (or BA income) to fund a significant portion of its Operation and Maintenance (O&M) Division.  The County's 10 cities have become a part of the annual assessment as co-participants (called "Co-Permittees") in the program, with the exception of the City of Moorpark.  Moorpark receives no assessment for its NPDES program because it did not request a rate for the 1995-96 assessment period. Under stipulation of California Constitution Article XIII C and Article XIII D, the City may not – without a majority vote of the landowners within the City boundaries – raise its rate per Benefit Assessment Unit (BAU) to any dollar amount above zero. This means Moorpark must fund NPDES costs from other sources of revenue and cannot obtain money from BA fees.
Properties within Ventura County, and/or one of the incorporated cities of Ventura County, typically get a tax bill with at least two – and often three – charges for O&M costs, Countywide NPDES costs, and/or local Co-permittee costs associated with the city where the parcel is located. VCWPD administers the Federal Permit and the unincorporated areas of Ventura County, while the County's 10 cities are the "Co-Permittees" working together to meet the objectives and requirements under the current Federal Permit.
Fees are calculated based on the number of Benefit Assessment Units (BAU's) a property generates, as determined essentially on how the
property compares (run-off wise) to a typical single-family home on 0.20 acres (also known as a standard unit or 1 BAU). Lot size and County Assessor-assigned Site Use Codes determine the BAU for each parcel, which is then applied to a rate table for the particular-subzone of the County (an overlay of 10 cities over 4 flood zones = 17 subzone areas).
Exceptionally large-sized lots for the land-use type are given special consideration. This makes sense because development would not normally impact the full extent of a very oversized lot.  Those parcels get the advantage of an extended formula, see booklet titled Ventura County Watershed Protection District Report on Benefit Assessment Program for Watershed Protection, Fiscal Year 2021/2022 (Appendix A and the Formula page at the end) for details and specific formula and special consideration examples. Some land uses, such as condominiums, have a predetermined size that is always used in the calculations—regardless if the actual condominium is a little bigger or smaller.  (see sheets 1 & 7 of Appendix A in the above-referenced booklet).
Landowners who find their assessment does not appear to be correct after reading through the booklet, may request a review. In cases where assessment data does not adequately describe the property for the purposes of a proper or accurate BA assessment due to an incorrect Site Use Code, or the wrong acreage, the challenge should result in a revised assessment, with any changes made to the current tax year carrying forward to future years.
Download the latest Benefit Assessment Booklet by clicking on this link, or call (805) 650-4060 for help, questions, or additional information.
Assessment Review Requests should be directed to Sergio Vargas, at (805) 672-2106.