DIRECTOR'S NOTE:
Ventura County Public Works Agency (VCPWA) is proud to join public works agencies from across the nation as we celebrate the 2021 National Public Works Week (NPWW).
NPWW is our opportunity to bring positive attention and awareness to the multitude of ways we serve Ventura County.  I am so proud of all the innovative strides VCPWA has made with projects for unincorporated roads, watersheds, levees, infrastructures, water and sanitation facilities and billing services to be safe, efficient, and cost-effective.
This year's NPWW's theme is "Stronger Together" and like VCPWA, it represents the many facets of how our communities went above and beyond for one another, despite the challenges we have all faced this past year. At VCPWA, our dedicated team of essential workers is on the front lines delivering innovative services to our community, responding effectively to emergencies and disasters, and making Ventura County one of the most desirable (and safest) places to live.
When blended with our 2021 Ventura County Public Works theme of Integrity, Respect, Professionalism and Commitment – the VCPWA Tradition, the mission of Public Works becomes clear. We are thankful to be a part of this great community, and we are honored to be entrusted with helping improve our residents' quality of life.
We thank all our community members, local leaders and our department teams for supporting all we do to keep our roads, public infrastructure and our waterways maintained and safe for our community.
Without a doubt, we are Stronger Together!
With deepest appreciation,
Jeff Pratt, Public Works Agency Director
National Public Works Week
While we are unable to bring students, teachers and families to tour our in-person educational displays for National Public Works Week, we've adapted to make one of Public Works most important educational events available to all, on our website.
Ambassadors from each of our five departments have worked with their teams over the last few months to put together a virtual curriculum filled with videos, fun activity books, informational pieces and worksheets to showcase all the latest innovations in technology and science as well as the many careers at VCPWA. Visit VCPublicWorks.org/NPWW for more information and activities!
Ventura County Public Works Agency works to maintain the County's infrastructures, respond effectively to life-threatening emergencies and unforeseen natural disasters, and protect and enhance the safety, health, and quality of life of our community. VCPWA's five departments – Central Services, Engineering Services, Roads & Transportation, Watershed Protection, and Water & Sanitation – work together with integrity, respect, professionalism, and commitment to help keep our county running.
Central Services
Central Services provides support services to all VCPWA departments including clerical, fiscal, real estate services, health and safety, technology and facilities, payroll, and personnel. We are behind the scenes, handling many details to ensure every project's success. Central Services is the hub to annual Agency-wide events, which include NPWW, attended in-person or virtually by over 1,000 area students; the Executive Planning Session, which focuses on the vision for Performance Improvement for the 60 Agency leadership staff; and State of the Agency, an event showcasing the Agency's annual theme as it corresponds with the most significant Performance Improvement events of the year, presented to all PWA staff.
Engineering Services
Engineering Services is responsible for a wide range of services including managing consultant and construction contracts issued on all Public Works projects and overseeing all vertical construction projects for the County, land development and surveying & mapping. A few County projects you may recognize with Engineering Services' signature blueprint are the VCMC Hospital Replacement Wing, the Newbury Park Fire Station #35, and the Ventura County Todd Road Jail Health and Programing Unit.
Roads and Transportation
Roads & Transportation is responsible for planning, designing, funding, operating, and maintaining 544 miles of the County's unincorporated road system. The men and women of Roads & Transportation work hard every day to ensure that our roads are safe for use and the County road network is in the best condition possible with the available resources. Our priorities are public safety and preserving and maintaining the public's multi-billion-dollar investment in the roads, bridges, and other facilities associated with the County Road System.
Watershed Protection 
Watershed Protection's mission is to protect life, property, and community infrastructure from flood events, improve water resources management, and enhance the health and natural function of watersheds in Ventura County. We champion an environmentally sustainable future for Ventura County watersheds through regional leadership and building community alliances benefiting current and future generations.
Water and Sanitation
Operating 24 hours a day, 365 days a year to serve the public through two distinct divisions: the Utility Services Division and the Integrated Waste Management Division (IWMD), Water & Sanitation's mission is to provide uninterruptible high-quality water to the customers they serve and oversee the design and construction of facilities aimed at meeting this objective. Additionally, we aim to reduce waste, prevent pollution, and promote the sustainable management of materials in partnership with the community.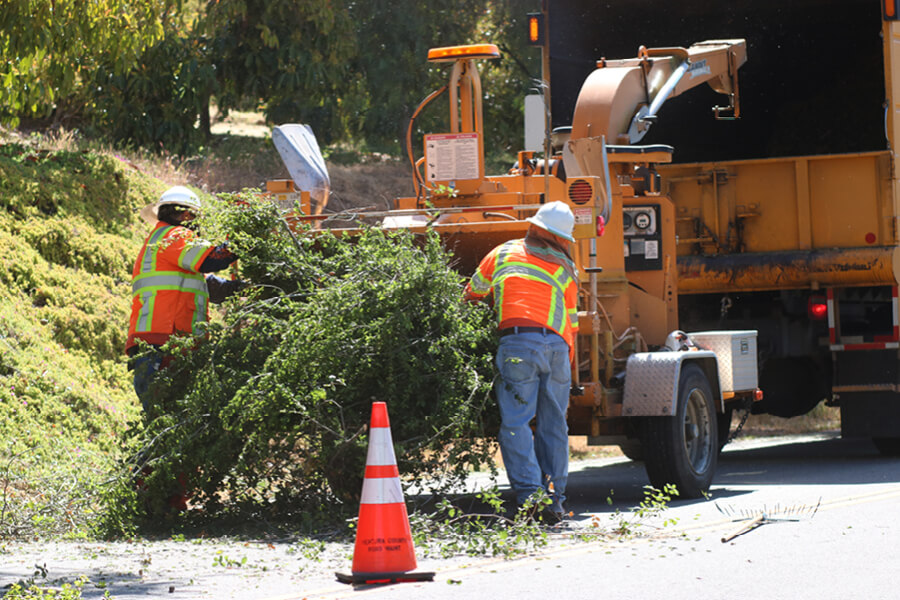 David Fleisch Promoted to Assistant Director of Ventura County Public Works Agency
Congratulations to David Fleisch for being promoted to Ventura County Public Works Agency's Assistant Director!
In his new role, he will oversee three operational departments: Roads & Transportation, Water & Sanitation and Watershed Protection.
"I am so honored for the opportunity to serve as the Assistant Director," said Fleisch. "The men and women of VCPWA work hard every day to make sure Ventura County is one of the best and safest places to live, and it is my pleasure to continue to lead and serve our community in this new role."
Fleisch has been an integral part of the VCPWA family, serving as the Director of Roads & Transportation since March 2010. In the past year, under his leadership, VCPWA partnered with Naval Base Ventura County to help ensure the long-term sustainability of the local Navy installation and received the first ever statewide grant for the El Rio Pedestrian Improvement Project.
"I could not be more proud to have David Fleisch as Assistant Agency Director," said Jeff Pratt, Agency Director at Ventura County Public Works. "Over the last 10 years, he has been instrumental as our Roads and Transportation Director, and he brings with him the experience, credentials, and leads with integrity, respect, professionalism and commitment – the VCPWA Tradition."
Why is Public Works essential to our community?
"Public Works keeps our County, cities and towns running smoothly, safely and efficiently.
Think about what you use – Roads, Water, Toilet, Electricity, Garbage Pickup, Public Buildings (Library, Fire Station & Government Buildings…), what protects you from Floods/Stormwater – Drains, Bridges and Dams, and what you want from recreation – clean and healthy water at the beach, rivers, and lakes." – Glenn Shephard, Watershed Protection
Do you use math, reading, technology, and/or science skills in your daily work?
"All of our employees in Water and Sanitation use math, technology, science, and reading on a daily basis. From the biological processes at our sewage treatment facilities, to the physical and chemical processes in our water system, and finally to our financial billing and purchasing systems, we couldn't operate without the foundation that the STEM subjects provide us." – Joe Pope, Water & Sanitation
Does Public Works hire students?
"Yes, college students! Experience real application & earn money. We don't just hire engineering students, we have opportunities for those studying environmental sciences, chemistry, accounting, human resources, hydrology, geology and more. PWA is a great place to work. Join us!" – Joan Araujo, Central Services
What advice would you give students interested in a career as an Engineer in Public Works?
"My advice would be (1) try to get an engineering internship in high school or college and (2) have a passion to help your community. Performing an internship helps in guiding you towards a discipline in civil engineering which you may enjoy.
Nothing is more rewarding then actually seeing a flood control channel, a new street, a well, or maybe a building that you had a hand in designing which protects and improves the lives of the residents of the community that you live in." – Chris Cooper, Engineering Services