From classmates in high school, to joining the Marine Corps together, to current coworkers at Ventura County Public Works Agency, Lou Negrete and Tony Golson's bond is the actual definition of friendship.
Lou and Tony first met during their freshman year at Fillmore High School in 1984. Now, 38 years later, they work together at VCPWA. Lou is the Superintendent for Watershed Protection, Zones 3 and 4, and Tony is the PWA Maintenance Supervisor in the same division. Tony started working at the County in 1991 and Lou in 2000. Lou said, "I recall seeing Tony driving a Watershed Protection truck while I was working for an asphalt paving company and thinking to myself 'If Tony is working for the County of Ventura, then it must be a good place to work.'"
Now, 21 years later, Lou and Tony reminisce on their friendship and pathway to VCPWA.
Can you explain the pathway that led you to where you are today?
Tony: "My mother raised four kids on her own, while holding a steady job, and my siblings and I were expected to contribute with chores around the house. Although I didn't know it then – that's teamwork. I have a simple education, I grew up going to Piru Elementary, Fillmore Jr. and Sr. High School. I am married to a wonderful wife, Monique, of 17 years, and we have a beautiful 20-year-old daughter, Aliyah, and three dogs, Chica, Chito and Dakota."
Lou: "Initially, I wanted to be a Physical Education teacher and coach sports. When I graduated from Ventura College in 2000 and was accepted to California State University Northridge (CSUN), I was also hired by VCPWA, Roads & Transportation. My plans then were to get a good paying job with medical benefits for my wife and daughters (while attending CSUN at night), earn my degree, leave VCPWA, and begin teaching and coaching. In 2004, I graduated from CSUN with my B.A. and started looking for teaching opportunities. However, in 2005, Mother Nature put a damper on my plans of leaving VCPWA when she unleashed a big rainstorm that caused flooding, destruction, and chaos throughout Ventura County. During that time, as a first responder and essential worker with VCPWA Road Maintenance Division, we were working around the clock, seven days a week, clearing roads, repairing bridges, evacuating people, and removing storm debris. It was during that time that my plans changed, and my PATHWAY did an about-face, guiding me to stay with VCPWA R&T. The work and services we were providing during and after the storm of 2005 were critical. Law enforcement, Fire Department, local and state agencies, and citizens relied on VCPWA to clear, repair, and open roads in order to recover and get back to some type of normalcy. I recall during that time I told myself that this was my calling, and I would make VCPWA my career! When I decided to stay with VCPWA R&T, I started looking into furthering my education to better provide for my wife and daughters, and potentially advance within VCPWA. I enrolled in supervision classes, construction classes, and applied to CSUN's Master of Public Administration Program in 2008 and completed it in 2010."
What do you enjoy most about your job and about VCPWA?
Tony: "Every day is different. One day you're in the office all day; the next day you're out in the field assisting/mitigating county constituents with Watershed Facility questions concerns and/or complaints."
Lou: "I enjoy the challenges of striving to perform our work efficiently and safely while complying with local, state, and federal regulations. I also enjoy going out into the field to investigate and resolve citizens' concerns. Most of all, I enjoy working alongside an incredibly talented and motivated group of people at Watershed Protection and all VCPWA."
Why do you work at VCPWA?
Tony: "I like being a small part of developing coworkers who are willing to step up to challenge, and over time, observe them mature into PWA leaders."
Lou: "I enjoy working at VCPWA because our work requires us to work outdoors, in different environments, climates, and locations, from the Oxnard Plains to Santa Susana Mountains to Santa Rosa Valley area."
What is the biggest obstacle and learning lesson you have learned while working at VCPWA?
Tony: "The pandemic and employee high turnover rate are definitely a challenge with employee vacancies and absenteeism when planning, scheduling, and executing a work plan. Learning to work together and expect the unexpected when planning and scheduling work has also been a lesson learned for most of us at PWA."
Lou: "Learning to be patient and understanding that there is more than one way to safely and efficiently complete tasks and assignments."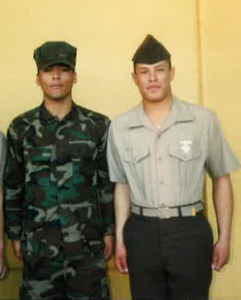 What is something you have learned from one another?
Tony: "I have learned that coming from a financially challenged family, being raised by a widowed mother in a relatively poor community, anything is possible with hard work."
Lou: "Mostly core values regarding mutual respect, discipline, and hard work."
What is your favorite memory together?
Tony: "Seeing Lou and another lifelong friend, Chris Ramirez, in basic training, MCRD – San Diego. We had a small window of opportunity to get a picture together and did." (Pictured on the left)
Lou: "My favorite memory was driving home to Fillmore from Marine Corps Base Camp Pendleton for weekend leave on Fridays. Tony and I where both stationed at Camp Pendleton. Tony owned a car and would pick me up after we were secured for the weekend. Driving home to Fillmore was always a fun time knowing we would each have time to spend with family and friends. Then driving back to Camp Pendleton on Sunday night to get a few hours of sleep and be at formation by 0600 hours on Monday morning."
Have you had any mentors in your life? If so, who and why were they your mentor?
Tony: "My mom was a great mentor growing up – a widowed, single, hard-working parent that would do anything possible for us – poor financially but rich with love. My wife is my mentor now, she keeps me going through life's peaks and valleys. She will keep me grounded when needed and will pick me up when life knocks you down."
Lou: "Not necessarily mentors, but rather great examples such as my parents, especially my mother Maria Magana Negrete, who set an excellent example for me and my 5 brothers and 5 sisters of hard work, determination, and the importance of family. When times are tough, I think of my mother and draw strength and inspiration from her."
If you could explain your pathway to where you are today in three words, what would those words be?
Tony: "Blessed by God."
Lou: "FFG: Faith, Family, & Grit!"
Do you have any hobbies? Or what do you do to relax and unwind?
Tony: "No hobbies currently, but I do enjoy family, friends, good music, good BBQ, and making memories."
Lou: "To relax and unwind, I exercise 3-4 times per week. One of my hobbies is gardening. I enjoy working the soil and watching my plants grow, produce vegetables, and eventually enjoying those vegetables with my family."
About Pathways: This newly added section to our monthly "The Works" newsletter – "Pathways" – will highlight the unique pathways that each of us has followed to the Ventura County Public Works Agency. We hope to highlight the "pathways" of an individual in each newsletter. If you have a story you'd like to share for a Pathways feature, please contact our Director of Central Services, Joan Araujo at your earliest convenience.