Ventura County Public Works Agency is continuing to improve the safety in our communities by providing maintained roads, clear water channels, and clean drinking water. As frontline workers and first responders, we have great potential for injury while we provide these services, which makes it vital to strive to maintain internal safety for our employees.
VCPWA collaborates with every division to ensure safety and leadership at all levels for continuous improvement. Beginning January 2017, we started tracking 'No Loss Workdays' at our operations and maintenance facilities, and 2022 marked the first time we held a ceremony to celebrate the year's recipients. The Public Works Agency Safety program recognizes individuals and work teams who are taking extra steps to promote health and safety and reduce accidents. A special thanks goes out to Cynthia Ibarra, Health & Safety Assistant, and Phil Raba, Health & Safety Manager, who organized the program and brought the awards ceremony to life. It is a credit to everyone involved to achieve these milestones and is further proof of our dedication to excellence.
Drumroll, please… On February 3rd, VCPWA presented awardees with a plaque for display at their worksites and a personal hardhat sticker noting their achievements. The following crews received group plaques based on the year ending December 31, 2021, for their number of years without a lost-time accident: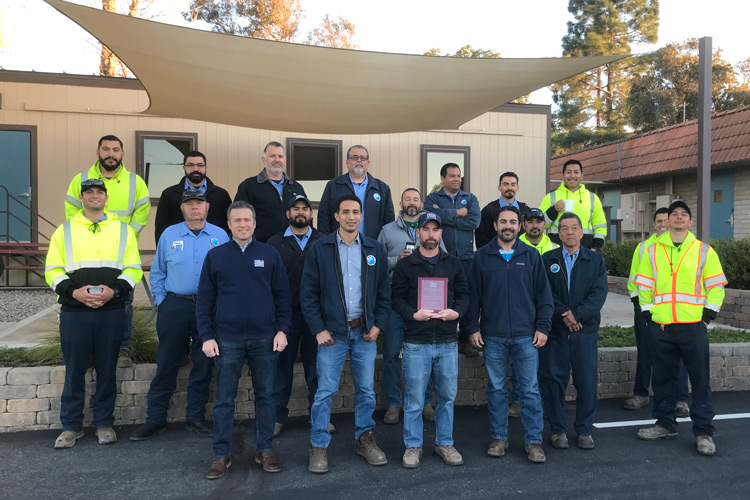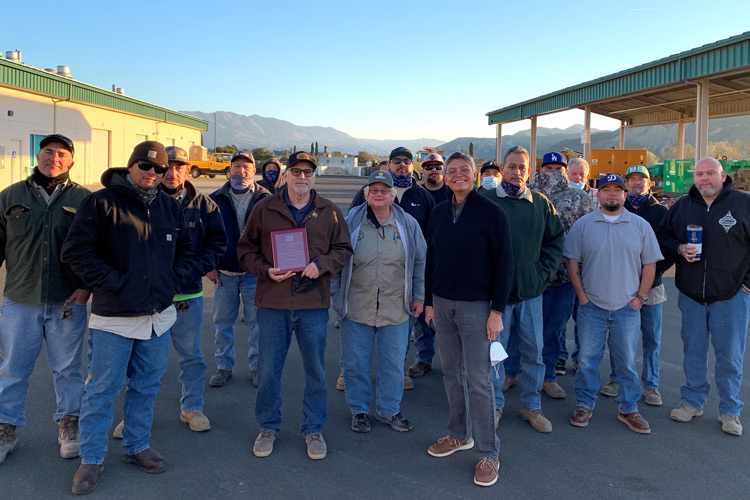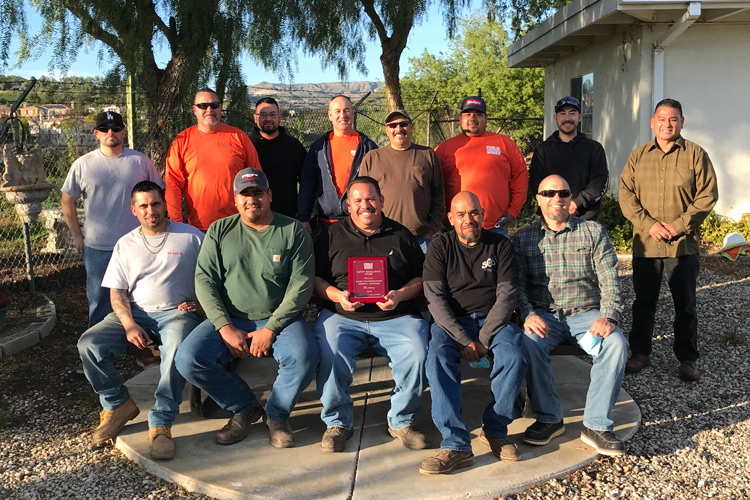 Take a second to congratulate the individuals below and pat yourselves on the back! We hope you place a new sticker on your hat and a new plaque on the wall in the years to come. Keep up the great work and stay safe.
Roads & Transportation: District-1
Rudy Munoz
Anthony Valenzuela
Jose Arredondo
Jason Castro
Jose Hernandez
Cruz Martinez
Jose Rodriguez
Ivan Betancourt
Erick Brockway
Trenton McCracken
Matthew Noriega
Omar Ramirez
Eduardo Ruvalcaba
Guadalupe Tamayo Villa
Joseph Valdivia
Roads & Transportation: District-2
Edward Zaffina
Manuel Romero
Carlos Alamillo
William Alonzo
Anthony Aparicio
Gene Cabral
Joseph Sandoval
Jordan Alvarez
Carl Barnes
Joseph Diaz
Joseph Duran
Rogelio Gomez
Hugo Gonzales
Jerrold Lata
Amado Mijares
Manuel Ruiz
Anthony Santiago
Victor Serrato
Roads & Transportation:  District-3
Duane Foster
Kevin Chrisman
Rodrigo Loera
Abel Arroyo
Gary Castaneda
Gregory Acosta
Adan Armenta
John Bryson
Raymond Chacon
Joseph Henry
James Horton
Jose Zaragoza
Felipe Gonzalez
Robert Godinez
Tomas Miranda
Joseph Rodarte
Diego Tamayo Villa
Sam Noriega
Robert Garcia
Joshua Gonzales
Jim Alonzo
Watershed Protection: Zones 1&2
Rick Cadena
Phil Cervantez
David McCarthy
Jose Calderon Ruiz
Carlos Fajardo
Paul Golianis
Douglas Legan
Jorge Martinez
Nathan Martinez
Arthur Zavala
Anthony Acero
Peter Acero
Robert   Bennett
Edward Coupart
Fernando Hernandez
Bryan Hodgins
Jose Medina
Rene Moreno
Steven Morgan
Jeffrey Quintal
Michael Rivera
Mona Woolwine
Humberto Villela
Leroy Schmidt
Watershed Protection: Zones 3 & 4
Luis Negrete
Anthony Golson
Mike Horn
Carlos Cortez
Tony Avalos
Andrew Castro
Jesus Garcia
Ivan Gonzales
Jose Morales Tamayo
Brian Aguayo
Alec Campos
Ivan Casian
Anthony Clark
Joseph McCracken
Edward Schmidt
Water & Sanitation: Water
Rick Bleak
Miguel Arambula
Edward Garcia
Marco Reyes
Marcos Cavazos
Gary Clark
Fausto Esqueda
Michael Flores
Samuel Gonzalez
Sean Hanley
Evan Martinez
Steve Nagaoka
Gary Nunez
Joseph Ortega
Raul Ruiz
Mark Sepulveda
Stephen Shelton
Joe Valdivia
Water & Sanitation: Wastewater
Shane Dass
Brandon Foutch
August Godinez
Jack Kramer
Ryan Rivas
Sky Stanley
Trevor Strasser
Eric Hardy