VCPWA Connecting Us Through Transit
The VCPWA Transportation Department is working on a number of projects and it is great to see the way multiple projects tie together to provide for a well-connected, multimodal transportation network for our community.
VCPWA Transportation Department is working to improve bus stops in the unincorporated areas. "These projects add important amenities to the bus stops, including benches and shelters to protect riders from the sun or rain while waiting for the bus," explains Treena
Gonzalez, Senior Transportation Analyst of the VCPWA Transportation Department. "This improves the experience of our current riders and helps make public transit a more attractive option for those who may not have tried it yet."
Rte 22 Bus Stop Friedrich Rd at Nyeland Ave
Before & After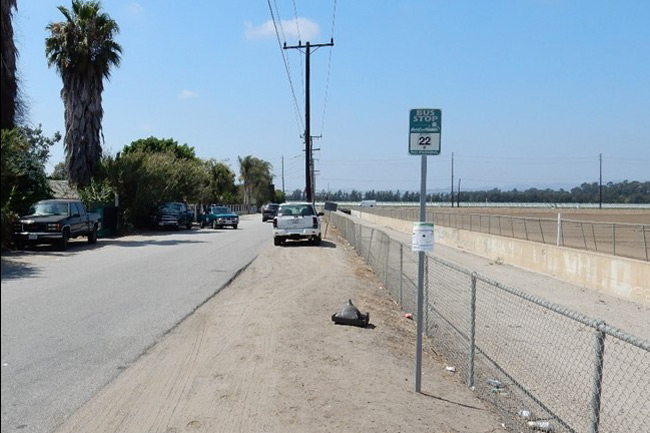 One such project, the Gold Coast Transit Route #22 Bus Stops Project, entails construction of brand new bus stops in the Saticoy and El Rio areas in support of Gold Coast Transit District's new Bus Route #22, including a stop at Central and Vineyard in the Rio Mesa High School area.
Route #22 was implemented as a demonstration project in August of 2015 and provides a direct route between Strickland Acres, Nyeland Acres and Saticoy, improving transit travel times for riders traveling between Oxnard and Ventura by one hour. This bus route is still in the demonstration period and is showing steady growth in ridership. The new bus stops are projected to help grow the ridership even more.
In addition to creating safe roadways for motorists, pedestrian safety is also a major priority for the VCPWA Transportation Department. Route #22 is also the same bus route that serves the Rio Mesa High School area where VCPWA has proposed critical
pedestrian projects to increase safety for our County residents.
The proposed Central Avenue Pedestrian Improvements Project involves installation of 1,850 feet of 5-foot-wide sidewalk with ADA ramps on the north side of Central Avenue from Rio Mesa High School to Joan Way. The new sidewalk will connect to existing sidewalk in front of Rio Mesa High School and provide a safe route to school. This project will close a 2,100-foot gap in the sidewalk network and provide access to transit stops in the area.
Transit is, of course, just one small component of the VCPWA Transportation Department – there is a lot happening every day to maintain our roads, bridges, sidewalks, bike lanes and more to ensure our citizens can move safely and with ease through our transportation
networks.