DIRECTOR'S NOTE:
As another year comes to a close and we welcome 2019, I am reminded how important the job we do is for our community and am humbled by the extreme passion and effort our VCPWA team contributes every day to ensure we do not let our residents down. 2018 was a year full of unexpected events and each of you rose to the challenge, proving that our effort to be prepared, to respond quickly and to help with recovery was truly needed. I am looking forward to the New Year as we all Lean Forward to achieve excellence in everything we do!
I hope you take time to read this issue and reflect on all the teamwork that went into our State of the Agency, Storm Day, Flood Mud Preparedness Event, and so much more.
Wishing you all a healthy and safe New Year!
Jeff Pratt, Public Works Agency Director

State of the Agency Meeting brings VCPWA departments together for team building and collaboration
Ventura County's Public Works Agency (VCPWA) considers education and team building for their employees a key factor for their success. Jeff Pratt, Agency Director and President of CEAC, feels that preparation, theme development, and collaboration between divisions and various other agencies is important to forming a fast-moving, responsive, first-responder agency in the time of any disaster.
State of the Agency (SOA) 2018 focused on the VCPWA Communication theme for 2018 – Prepare. Respond. Recover. – when developing this year's presentation.  VCPWA, which is usually the first group to arrive on a disaster scene in addition to other key first- responders, ensures that our roadways, water systems, bridges, watershed capacities, and other key work keeps Ventura County moving and is safe and prepared in the event of an ongoing disaster.
SOA 2018 had over 400 staff, dignitaries, and other agency officials attend the event and view the presentation at the annual staff meeting that was held over three days.  The presentation kicked off with an exciting intro by Pratt who also set up the employees for the team-building exercise. This year's presentation content was made entirely by VCPWA team members from various departments of the Public Works Agency. The content touched on personal and family preparation, Agency preparation, response to disasters, information on how that is done, as well as recovery, which is always ongoing. Informative pieces contained go-bag information and ensuring VCPWA's employees are always prepared for any emergency situation – as State/Federal-appointed disaster workers.
In addition, this year's presentation featured a video that was created by Dave Jackson, Senior Real Property Agent for the Central Services Department, Valeria Lopez, Real Property Agent for the Central Services Department, and Gabriel Ramirez, Engineering Tech of the Watershed Protection District, that was fun and informative. The video received wide acclaim and was even requested to be played for all of the Board of Supervisors!  A great compliment to all the hard work by staff and management to ensure VCPWA employees are effectively informed on the importance and need for all their dedication to keep Ventura County safe.  Organizers thanked everyone who participated, and all enjoyed another great SOA presentation and the energy that ensued.
Team Ambassadors:
Kristine Stratas – Engineering Services
Valeria Lopez – Central Services
Matt Maechler – Transportation Department
Rigo Loera – Transportation Department
Gerard Kapuscik – Watershed Protection District
Tobie Mitchell – Water and Sanitation
Presenters:
Dave Jackson – Central Services
Matt Maechler – Transportation Department
Gerard Kapuscik – Watershed Protection District
Sean Hanley – Water and Sanitation Department
Kenji Miyata – Engineering Services
Advisors and Mentors:
Tabin Cosio – Director of Central Services
Kristina Colton – Central Services
Frances Tamayo – Central Services
Organizers and Design Team – Consortium Media
Welcome our new Strategic Operations Manager - Derrick Wilson
Derrick joined the PWA Central Services Department on December 31, 2018 to lead the newly formed division of Planning, Execution, Analysis and Knowledge management (PEAK) focused on agency-wide organizational excellence and continuous process improvement. In his new role, Derrick will oversee a variety of agency-wide activities which include implementation of the agency strategic plan, tracking and reporting performance metrics, leading the Business Quality Council, mentoring Green Belts, and assisting departments with completing, documenting and reporting process improvements as needed.
Previously, Derrick was assigned to the Water and Sanitation Department managing staff and services in the Integrated Waste Management Division. Derrick has a combined 27 years in public service (10 years with the County of Santa Barbara and 17 years here in the County of Ventura) and, throughout his career, has successfully lead teams and completed enterprise-level initiatives employing process improvement, business process redesign, change management and project leadership skills.
Please say hello and congratulate Derrick when you see him around the office.
STORM Day 2018 designed to test the agency's emergency response plans and processes
When a natural disaster hits such as a fire or a flood, preparation is always key to the survival of life and property and it's never too early to start. The Ventura County Public Works Agency (VCPWA) conducted Storm Day, an annual disaster simulation drill on October 18, which focused on preparation for flooding stemming from a natural disaster and infrastructure damage.
Storm Day 2018 simulated a severe storm and a scenario depicting emergency response to structural damage to local dams and underground water lines triggered by an earthquake. In light of the Thomas Fire and Montecito Mudslides, this year's exercise was created to assess VCPWA's preparedness to address similar, potentially devastating events in Ventura County.
During the exercise, Public Works crews worked to clear out a culvert under Central Avenue that was clogged with thick mud utilizing a remote-control skid steer. They also operated an excavator to clean out a bridge storm drain.
The annual exercise underscores VCPWA's role as first-responders. In floods, debris flows, fires, earthquakes, or any other emergency circumstances, VCPWA works alongside the Ventura County Sheriff's Department, the Ventura County Fire Department, and emergency medical personnel to provide critical infrastructure support and maintain public safety. The exercise is used to create severe but plausible scenarios to test agency emergency response. The Storm Day 2018 training mobilized VCPWA to its emergency Field Operations Centers, Department Operations Centers, and Agency Operation Center.
"As one of the first and last responders on the scene when a natural disaster strikes, Public Works assess the damage and works around the clock until the area is safe again, so citizens can continue with their everyday lives," explains Jeff Pratt, Director of VCPWA.
The specific objectives of the exercise included testing the agency's emergency response plans and processes, evaluating information and communication procedures, analyzing the efficiency of department, agency, and field operations centers, and testing the process and procedure to proclaim a local state of emergency. The drill also helps identify any areas for improvement in the emergency response plans.
VCPWA's Transportation Department Receives Grant to Enhance County's Traffic Safety Systems
VCPWA's Transportation Department is the latest recipient of a grant from the California Office of Traffic Safety that will be utilized to improve Ventura County traffic safety systems
To fill a critical need for the collection and coordination of traffic collision data across all of the county's jurisdictions, Ventura County Public Works Agency's Transportation Department will receive funding to implement a Geographic Information System (GIS)-based traffic collision database that will compile and store data in a timely and accurate countywide basis.
"With the lack of such regional traffic collisions data, regional traffic collision problems are very difficult to identify, coordinate and implement joint solutions among separate agencies," said David Fleisch, Director of the VCPWA Transportation Department. "This database will not only help us to alleviate those problems but it also allows us to develop projects that will enhance the county's traffic safety."
The GIS traffic collision database, which will be shared by all police departments, public works departments, and traffic engineers, will have the tools necessary to perform analysis on traffic collision data patterns not only on a countywide scale but also on an individual agency basis. In addition, this database will help various agencies throughout the county to work together in providing better solutions for the community. Funding for this program was provided by a grant from the California Office of Traffic Safety (OTS), through the National Highway Traffic Safety Administration.

Flood/Mud Preparedness Event helps educate community on potential flooding and debris flow dangers following the Woolsey and Hill Fires
Almost one year after the devastating Thomas Fires, Ventura and Los Angeles County were threatened again by wildfires that closed in on residents and their homes. VCPWA was ready as first-responders to help communities recover and address their concerns of mudslides due to impacted hillsides and fire areas.
VCPWA joined the County of Ventura and City of Thousand Oaks to host an education and awareness Flood, Mud Event, for residents, held Saturday, December 8 from 9 am to noon at the Oak Park High School Pavilion.
The event was held to help inform and educate community members on how to protect and prepare themselves and their property from potential flooding and debris flow dangers. Residents living below or near damaged burn areas, hillsides, creeks, storm drains and barrancas were encouraged to attend. Outreach was conducted in English and Spanish and Spanish and American Sign Language interpreters were available at the event as well.
Event speakers included: Ventura County Supervisor Linda Parks, VCPWA Director Jeff Pratt, Sheriff's Office of Emergency Services Manager Kevin McGowan, VCPWA Watershed Protection District Director Glenn Shephard, and City of Thousand Oaks Public Work Agency Director Jay Spurgin.
Flood and erosion protection experts discussed heightened flood dangers following the Woolsey and Hill fires, as well as preparedness measures being conducted by local governments and the importance of residents having a plan and staying informed before, during and after a heavy storm.
More than 50 community members attended from Agoura Hills, Oak Park and Thousand Oaks neighborhoods as well as Home Owners Associations (HOA) who asked questions on behalf of neighbors, friends and victims who lost their homes. Important websites were provided, and flood and erosion control vendors were onsite to provide attendees with resources to protect, support and assist with soil erosion and stabilization.
News coverage during and after the fires highlighted VCPWA's collaborative efforts and organized response to keep the community safe. A significant outreach effort garnered media coverage from Los Angeles County and Ventura County news outlets including CBS2, FOX11, KCAL9, KEYT, KTLA, NBC4, KNX 1070, KFI 640, VC Star and many other hyperlocal media.
The primary messaging for the Flood Mud Event encouraged community members how to prepare, plan and stay informed for any possible impacts from heavy rainfall.
It's difficult to select just a few VCPWA employees to feature in The Works newsletter. There are so many amazing team members that assisted during the fires, Storm Day and preparing the County for the rainstorms following the fires. But here are a handful of our amazing team members hard at work!
Jim O'Tousa, our County Geologist, gave a talk to the Coast Geological Society on the subject of debris flow events. Jim was also leading teams in the field assessing burn areas after the recent Woolsey and Hill fires.
Paul Golianis, Equipment Operator Watershed Protection District, was also focused and hard at work keeping Ventura County safe by clearing debris in Culverts before the rains hit.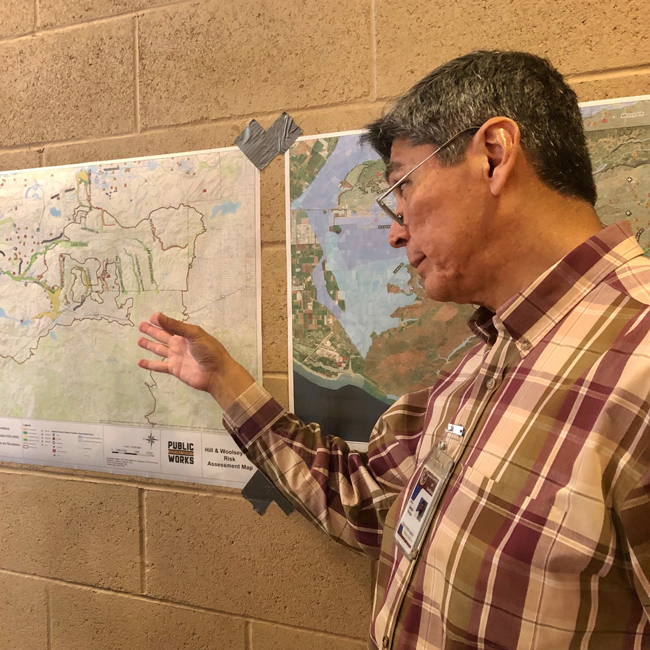 Sergio Vargas, VCPWA's Deputy Director of Watershed Planning and Permits, was front and center at the Flood Mud Event helping to educate community members on potential flood and mud hazards in their area.
Once again, our VCPWA family was front and center participating in the FOOD Share Can-tree build, helping to ensure we restock the pantry shelves before the holidays for our friends and neighbors. This year was extra special as we were honored with a "hero" tree. The Can-tree event helps to feed many in our community and we are so glad to be a part of it. Thank you to everyone that came out and represented VCPWA!
Thanks to the support from the County family and community members, here are the happy stats from VCPWA's 2018 #AmericaRecyclesDay!
• 225 pairs of prescription eyeglasses collected for California Lions Friends in Sight
• 175 pairs of gently used shoes collected for Soles4souls
• 101 Employees and County Visitors took the "I Recycle" pledge